My name is Steve Hall. I am a Brit who lives in Spain and who loves football.
In 2010 I cycled to all the 92 football league clubs in England and Wales. I set off in May and finished on 23 September 2010. I was met with almost universal kindness, hospitality and friendship.
In March 2021 I will retrace the route … but this time ona tuktuk. My charity partners are Prostate Cancer Charity.
Please check through the site to learn more about the project, the people involved and how you can also help and get involved.
Thanks
Steve
I got an interesting newsletter from Fulham this week which I thought deserved sharing.


Your chance to get a matchworn and signed poppy shirt!
As in recent years, Fulham continue to show our support for The Royal British Legion and the Armed Forces community. All players will wear shirts bearing the poppy as a symbol of remembrance and hope. These shirts, worn in the upcoming game against West Ham United, will be personally signed by the players after the game and will be available to bid on straight from kick-off at https://matchwornshirt.co.uk/club/fulham.
By getting involved you have the chance of winning the ultimate piece of fan memorabilia, a matchworn, player signed, poppy embroidered shirt of your favourite player. The proceeds will go to The Royal British Legion. This means that not only can you win a fan item like no other, you will also help improve the circumstances for some of the most vulnerable but deserving individuals within our communities.
The Royal British Legion is the country's largest Armed Forces charity. It is the Legion's aim to provide lifelong support for those who have been affected – both physically and mentally – as a result of their service. The Legion provides essential support to individuals and families in need, yet they are entirely dependent on the support from the public. This is where your contributions can really make a difference. You can find out more information on The Legion's great work at https://www.britishlegion.org.uk/about-us/who-we-are
Want to get involved? Simply head over to https://matchwornshirt.co.uk/poppy. The auction begins at kick-off for each game, so you can place your bids whilst watching the shirt being worn! Once the auction ends the shirts will be professionally disinfected using UV-C light before being shipped out to the winner.

So, I popped (sorry!) over to MatchWornShirt and entered an Aladdin's Cave of delights for shirt fans. Not only do they support the Poppy Appeal but there are thousands of other genuine match worn shorts from literally dozens of clubs around the world. So whether you want a Sergio Ramos shirt or a Harry Kane shirt, I am sure that you will find something to tempt you. Enjoy!
Tipperary footballers to wear commemorative Bloody Sunday jerseys in Munster final
By Shane O'Brien@shamob96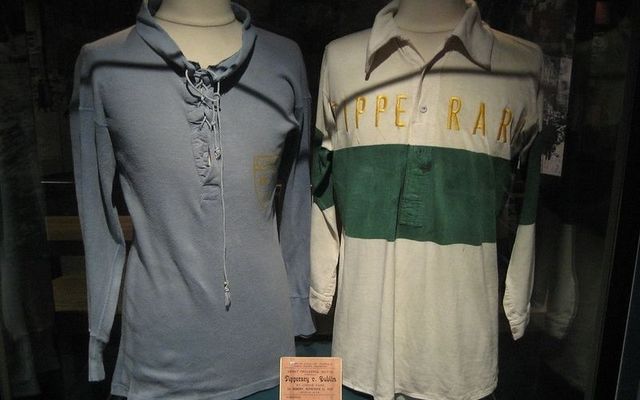 Orignal jersey worn by Tipperary (right) on Bloody Sunday, 1920. 
Photo Steve Burt @Flickr

Although not about (association) football, I came across this article today that I thought deserved sharing to a wider audience. It is a unique event with a unique shirt – interesting on many levels.


Tipperary's Gaelic footballers will wear special commemorative jerseys marking the centenary of Bloody Sunday in their Munster final clash with Cork on November 22.
The Tipperary County Board confirmed that Tipperary's footballers will wear a special replica of the original green and white jersey worn on November 21, 1920, when British forces opened fire during an exhibition match between Dublin and Tipperary, fatally wounding Tipperary player Michael Hogan and 13 others.
The Tipperary County Board had initially planned to use the jerseys in a special commemorative match between Dublin and Tipperary that would only last 48 minutes and start from the 12th minute; when the shooting started on that fateful day.
However, the COVID-19 pandemic halted the GAA calendar, meaning that games that would normally take place over summer were rescheduled for winter and Tipperary will now instead mark the 100th anniversary of Bloody Sunday in a Munster football final.
In a statement, the Tipperary County Board said: "It is only fitting that the Tipperary team will wear the official replica green and white jersey as worn by Tipperary on that eventful day as a mark of respect to all of the fallen."
The statement added: "The Tipperary players and management of 2020 are honoured to wear the official replica green and white jersey in this year's Munster Final and play their part in marking this historic anniversary event."
Teneo, the county's shirt sponsors, has agreed to forego their name on the front of the commemorative jersey to add authenticity, while the replica jerseys will also feature an image of Michael Hogan along the sleeve.
Teneo Chairman and CEO Declan Kelly said that he was honored that his company was associated with the Tipperary Senior Football team as it marks the centenary of one of the darkest days in Irish history.
Kelly also said that he was proud of the Tipperary team for making their first Munster final since 2016. 

The complete article can be found at www.irishCentral.com

Sign up to IrishCentral's newsletter to stay up-to-date with everything Irish! Subscribe to IrishCentral
What's #Shirt2Work?
A football shirt or rugby shirt not just a shirt. It's your team colours. It represents history. It carries the memories of famous victories, and agonising defeats. Now it can do something else – raise money to help stop prostate cancer being a killer.
On #Shirt2Work day, sports fans (and anyone who wants to show their support) canwear their favourite team's colours to work and make a donation of £2 each.
Prostate cancer is one of the toughest opponents a man can face. Get behind #Shirt2Work day by signing up now
Planning a #Shirt2Work Day?
Let us know, and we'll lend a hand!Sign up
How do I set it up?
1: Be the champion
Rise up from your desk chair and roar "I am the #Shirt2Work champion, follow me and donate £2 to Prostate Cancer UK!" Unless you're the boss – in which case, make people do it!
2: Choose your day
You can hold your day whenever you like, but why not take advantage and time it with a big sporting occassion?
3: Get signed up
Sign up for #Shirt2Work. We'll be on hand with the advice, the materials, and the encouragement.
4: Spread the word
Make sure everyone knows to wear their team's shirt or colours (it could be any sports club) to work on the day. We've got tools to help you – our A3 poster, A4 poster and social image are for starters. If you sign up and get in touch, we'll see what we can do by way of collection tins, pin badges and all the rest.
5: Get changed early
On #Shirt2Work day, make sure you've got collection tins on display. Or you can set up an online fundraising page. Charge everyone £2 and take plenty of photos to show how colourful your colleagues really are.
6: Report the result
At full time, here's how you send in the money you've raised, update your online fundraising page with photos and get a promotion!
I was delighted to receive news that QPR have adopted Prostate Cancer UK as their official charity partner for 2020-2021. The official release states,
"QPR are delighted to announce Prostate Cancer UK as the club's official charity partner for the 2020/21 season.
As a first step in this partnership, we will be auctioning the limited-edition shirts worn in Saturday's match against Cardiff City to help raise funds for this fantastic charity, to help beat the most common cancer in men.
Supporters will be able to bid on any of the 75/76 shirts worn and signed by the first-team player who wore it, as well as one special Prostate Cancer UK branded shirt signed by the whole squad and the manager.
The first batch of shirts are available for auction now and you can click HERE to enter your bids. The auctions will run for seven days, closing on November 10th.
Shockingly, one man dies every 45 minutes from prostate cancer, which is now the most commonly diagnosed cancer in the UK. Around 400,000 men are living with or after a prostate cancer diagnosis, and that number keeps rising.
QPR ambassador Andy Sinton – who has taken part in Prostate Cancer UK's March for Men football walks in recent years – has hailed the partnership as it enters a third season.
He said: "This is such an important partnership and it's great that QPR, its staff and supporters continue to highlight the issues around this serious disease.
"I was proud to walk side by side with some incredibly inspiring people affected by prostate cancer and know it's a cause very close to the heart of my former teammates Les Ferdinand and Paul Parker, who have also taken on epic challenges for the charity and raised thousands of pounds."
Matt Holdstock, Sport Engagement Manager at Prostate Cancer UK, said: "The football family continues to be a major player in the fight against prostate cancer, so we're proud to continue our partnership with Queens Park Rangers into a third season.
"The club have been extremely supportive of our work over the past two seasons and we are excited to continue connecting even more with R's supporters to increase awareness of prostate cancer and fundraise to support vital research throughout the season. That continued support will help us change the game for all those affected by prostate cancer; men and their loved ones."
Euan Inglis, QPR Commercial Director, said: "This is the third season that Prostate Cancer UK has been our official charity partner and we're delighted to continue that relationship.
"The charity sector has been extremely badly affected by the Covid-19 situation. We want to play our part to help raise raising funds for Prostate Cancer UK and continue to raise awareness of the disease amongst the QPR faithful.
"We've already got a number of initiatives including some new innovative digital ideas already in the pipeline to help us achieve this. Part of the partnership launch is the opportunity for our supporters to bid for the 45-year anniversary shirts worn in our win against Cardiff on Saturday. The shirt is truly unique and is a one off in regard to the players signatures and application of Prostate Cancer UK's "Man of Men" logo."
Fans can place their bids HERE.
*To find out more information about Prostate Cancer UK's work in football, click HERE or anyone with concerns about prostate cancer may contact Prostate Cancer UK's Specialist Nurses in confidence on 0800 074 8383 or online via the Live Chat instant messaging service: www.prostatecanceruk.org. The Specialist Nurse phone service is free to landlines and open from 9am to 6pm Monday to Friday, and 10am to 8pm on Wednesdays."
We give a shirt about beating bowel cancer!
Football Shirts FC have joined the Football Shirt Friday squad to help tackle bowel cancer. All money raised will go towards the Bobby Moore Fund's pioneering bowel cancer research.
As massive football fanatics and having both been affected by cancer in people very close to us, we saw an opportunity to do something about it.
We wanted to do something different.

We established 'Football Shirts For Charity'. ​

Every shirt has a story. The sight of any football shirt always evokes so
many special memories and conversations.

Choose a special shirt to wear on Football Shirt Friday 20-11-20 and donate to this amazing cancer research cause.


Bobby Moore Fund
Bobby Moore was just 51 when he died. The Bobby Moore Fund for Cancer Research UK was set up by Stephanie Moore MBE in his memory to fund pioneering bowel cancer research. Over the past 40 years there's been dramatic progress in tackling bowel cancer but we want to do more to do to beat this cancer sooner.
Kits For Meals

In October 2020 the UK government voted against supplying children's free school meals during the autumn half-term. This caused huge public unrest and the Manchester United footballer, Marcus Rashford, has spearheaded a campaign to fund meals for children which has been tremendously received ….. except by Conservative politicians. A petition has also started and within a few days has over one million signatures demanding government action.

Toby Freestone believes that we in the shirt community can do our bit by supplying some funds towards meals for the vulnerable and has started a JustGiving crowdfunding
The entire sum raised by this initiative will be donated to Fare Share : https://fareshare.org.uk
They will ensure the funds reach the most vunerable.
This is being driven as a Twitter campaign and every tweet should end with #KitsForMeals Please, share the link far and wide!

The whole Rashford "thing" is becoming something of a phenomenon. Liverpool fans are promising him a standing ovation when, eventually, crowds attend a Liverpool – United derby and the Liverpool manager, Jürgen Klopp, said "In a time when people in charge don't show any kind of proper leadership, that he has to do it is a shame, but it's wonderful. I hope his Mum's proud of him, I don't know him… but I am. With all the rivalry between the clubs and stuff like this, in these moments as footballers, and as human beings – always united."


The latest additions to the official Juventus retro collection are an ode to their many beautiful shirts as worn in the past. The Old Lady – or La Vecchia Signora – of Italian football originally wore pink shirts. The club became the Bianconeri after adopting Notts County's black and white colors in 1903.
Three new styles were added to the extensive licensed retro collection. 1961 was a very successful year for Juventus. The Turin giants duly won the League and the exciting forward line of Sivori, Charles, Nicolè and Mora all hit double figures.


Further, the 1986 – 87 away shirt and a 1970's jacket were added to the collection. As we will be releasing items from various eras in the club history, there will be something for fans of all generations to appreciate.All items are packaged and dispatched in luxury gift boxes.

The complete Juventus retro collection can be found on copafootball.com, via selected retailers & online resellers and in our Flagshipstore in Amsterdam. It's also available in the official Juventus fanstores.
Brentford x Umbro Third Kit 2020/21


The Brentford spirit remains genuine and true, as we nod to our history of claret, salmon and blue. Bees release third kit in homage to the Club's beginnings in 1889
On Monday 7 October 1889, a meeting was called by Archer Green – the secretary of the Brentford Rowing Club.
The question of starting a Brentford Football Club was discussed, and it was resolved that all gentlemen interested in football were to gather in the Pavilion at the Oxford and Cambridge Hotel, Kew Bridge, the following Thursday, to set the ball rolling.
It was agreed that a vote would be taken on Wednesday 16 October to determine whether the Rowing Club would play football or rugby; football was favoured by eight votes to five. Brentford Football Club was formed.
Claret, salmon and blue, the same colours as the Brentford Rowing Club, were adopted as the Club's colours.
131 years on, with the Club having recently moved to a new stadium a stone's throw away from the site of its formation at Kew Bridge, Brentford has taken inspiration from its past with a claret, salmon and blue third strip. The Bees mark the start of a new era with a nod to how it all began.
A crisp white jersey with striped tipping to the sleeves and a contrast rounded rib neck gives the jersey a clean and classic feel. The colour scheme continues with white shorts and socks with a claret trim.
Principal Partner Utilita Energy, one of the nation's fastest-growing independent energy suppliers, will take pride of place on the front of the shirt. Utilita Energy, who first joined forces with The Bees in 2016 as Official Energy Supplier, will appear on the front of all Official Brentford shirts – including Brentford B and Brentford Women's FC teams – for the 2020/21 campaign.
Brentford's new third shirt is available from Monday 2 November. Shirts will be £48 in adult and women sizes and £38 in junior sizes. Fans will be able to personalise their shirts with the specially made claret EFL letters and numbers. The team will wear the third strip for the first time against Swansea City on Tuesday 3 November.
The Bees Store on Braemar Road will reopen from Friday 30 October at 9am for seven days a week until Sunday 29 November (Monday to Saturday – 9am to 5pm / 10am – 4pm on Sundays). For three days only prior to general launch, our third shirts will be exclusively available in store. Supporters will receive goodie bags for every purchase over £50 (subject to availability). Third kit shorts and socks are not available.


….and if you needed reminding here is the First Kit for 2020/2021


I was delighted to receive a newsletter from a local art gallery. I had no idea that they had a connection with this true football legend.


Today we celebrate Pelé's 80th Birthday and 5 years since the Pelé: Art, Life, Football exhibition at the Halcyon Gallery.
This exhibition honoured Pelé; his creativity, his life and his incredible sporting career with original paintings and sculptures from contemporary artists including Lorenzo Quinn, Mitch Griffiths, Russell Young, Pedro Paricio and Ernesto Cánovas. One of the highlights of the exhibition was Andy Warhol's original 1977 painting Pelé; one of ten portraits which formed Warhol's famous series: Athletes.

"Art has played a big role in my life for many years and it has been a very humbling experience to have so many talented artists creating such beautiful work in my honour." – Pelé

Paul Green, President & Founder of Halcyon Gallery, added: 'If ever the expression "the beautiful game' was applicable to one individual it was Pelé. And it is this beauty, this creativity, this human presence that we wanted this exhibition to capture and re-create on canvas, in sculpture, and in print''

See Pele at the Halcyon Gallery


Halcyon Gallery 144-146 New Bond Street is open by appointment
Monday – Saturday 10am – 5pm.

https://www.halcyonexhibitions.com/



Hopes were high at Craven Cottage that the 1999/00 season would bring a Fulham push for promotion to the Premier League. Paul Bracewell's team started the campaign strongly with a run of 15 games unbeaten in all competitions, but a sticky run that yielded very few victories at the end of the calendar year curtailed the team's chances. The away shirt worn that season however, was a thing of beauty.
The shirt is added to our extensive retro shirts collection. It can be found on copafootball.com, via selected retailers & online resellers and in the Fulham FC fanstores. Previous Fulham merchandise is here