My name is Steve Hall. I am a Brit who lives in Spain and who loves football.
In 2010 I cycled to all the 92 football league clubs in England and Wales. I set off in May and finished on 23 September 2010. I was met with almost universal kindness, hospitality and friendship.
In March 2021 I will retrace the route … but this time ona tuktuk. My charity partners are Prostate Cancer Charity.
Please check through the site to learn more about the project, the people involved and how you can also help and get involved.
Thanks
Steve
Kits For Meals

In October 2020 the UK government voted against supplying children's free school meals during the autumn half-term. This caused huge public unrest and the Manchester United footballer, Marcus Rashford, has spearheaded a campaign to fund meals for children which has been tremendously received ….. except by Conservative politicians. A petition has also started and within a few days has over one million signatures demanding government action.

Toby Freestone believes that we in the shirt community can do our bit by supplying some funds towards meals for the vulnerable and has started a JustGiving crowdfunding
The entire sum raised by this initiative will be donated to Fare Share : https://fareshare.org.uk
They will ensure the funds reach the most vunerable.
This is being driven as a Twitter campaign and every tweet should end with #KitsForMeals Please, share the link far and wide!

The whole Rashford "thing" is becoming something of a phenomenon. Liverpool fans are promising him a standing ovation when, eventually, crowds attend a Liverpool – United derby and the Liverpool manager, Jürgen Klopp, said "In a time when people in charge don't show any kind of proper leadership, that he has to do it is a shame, but it's wonderful. I hope his Mum's proud of him, I don't know him… but I am. With all the rivalry between the clubs and stuff like this, in these moments as footballers, and as human beings – always united."


The latest additions to the official Juventus retro collection are an ode to their many beautiful shirts as worn in the past. The Old Lady – or La Vecchia Signora – of Italian football originally wore pink shirts. The club became the Bianconeri after adopting Notts County's black and white colors in 1903.
Three new styles were added to the extensive licensed retro collection. 1961 was a very successful year for Juventus. The Turin giants duly won the League and the exciting forward line of Sivori, Charles, Nicolè and Mora all hit double figures.


Further, the 1986 – 87 away shirt and a 1970's jacket were added to the collection. As we will be releasing items from various eras in the club history, there will be something for fans of all generations to appreciate.All items are packaged and dispatched in luxury gift boxes.

The complete Juventus retro collection can be found on copafootball.com, via selected retailers & online resellers and in our Flagshipstore in Amsterdam. It's also available in the official Juventus fanstores.
Brentford x Umbro Third Kit 2020/21


The Brentford spirit remains genuine and true, as we nod to our history of claret, salmon and blue. Bees release third kit in homage to the Club's beginnings in 1889
On Monday 7 October 1889, a meeting was called by Archer Green – the secretary of the Brentford Rowing Club.
The question of starting a Brentford Football Club was discussed, and it was resolved that all gentlemen interested in football were to gather in the Pavilion at the Oxford and Cambridge Hotel, Kew Bridge, the following Thursday, to set the ball rolling.
It was agreed that a vote would be taken on Wednesday 16 October to determine whether the Rowing Club would play football or rugby; football was favoured by eight votes to five. Brentford Football Club was formed.
Claret, salmon and blue, the same colours as the Brentford Rowing Club, were adopted as the Club's colours.
131 years on, with the Club having recently moved to a new stadium a stone's throw away from the site of its formation at Kew Bridge, Brentford has taken inspiration from its past with a claret, salmon and blue third strip. The Bees mark the start of a new era with a nod to how it all began.
A crisp white jersey with striped tipping to the sleeves and a contrast rounded rib neck gives the jersey a clean and classic feel. The colour scheme continues with white shorts and socks with a claret trim.
Principal Partner Utilita Energy, one of the nation's fastest-growing independent energy suppliers, will take pride of place on the front of the shirt. Utilita Energy, who first joined forces with The Bees in 2016 as Official Energy Supplier, will appear on the front of all Official Brentford shirts – including Brentford B and Brentford Women's FC teams – for the 2020/21 campaign.
Brentford's new third shirt is available from Monday 2 November. Shirts will be £48 in adult and women sizes and £38 in junior sizes. Fans will be able to personalise their shirts with the specially made claret EFL letters and numbers. The team will wear the third strip for the first time against Swansea City on Tuesday 3 November.
The Bees Store on Braemar Road will reopen from Friday 30 October at 9am for seven days a week until Sunday 29 November (Monday to Saturday – 9am to 5pm / 10am – 4pm on Sundays). For three days only prior to general launch, our third shirts will be exclusively available in store. Supporters will receive goodie bags for every purchase over £50 (subject to availability). Third kit shorts and socks are not available.


….and if you needed reminding here is the First Kit for 2020/2021


I was delighted to receive a newsletter from a local art gallery. I had no idea that they had a connection with this true football legend.


Today we celebrate Pelé's 80th Birthday and 5 years since the Pelé: Art, Life, Football exhibition at the Halcyon Gallery.
This exhibition honoured Pelé; his creativity, his life and his incredible sporting career with original paintings and sculptures from contemporary artists including Lorenzo Quinn, Mitch Griffiths, Russell Young, Pedro Paricio and Ernesto Cánovas. One of the highlights of the exhibition was Andy Warhol's original 1977 painting Pelé; one of ten portraits which formed Warhol's famous series: Athletes.

"Art has played a big role in my life for many years and it has been a very humbling experience to have so many talented artists creating such beautiful work in my honour." – Pelé

Paul Green, President & Founder of Halcyon Gallery, added: 'If ever the expression "the beautiful game' was applicable to one individual it was Pelé. And it is this beauty, this creativity, this human presence that we wanted this exhibition to capture and re-create on canvas, in sculpture, and in print''

See Pele at the Halcyon Gallery


Halcyon Gallery 144-146 New Bond Street is open by appointment
Monday – Saturday 10am – 5pm.

https://www.halcyonexhibitions.com/



Hopes were high at Craven Cottage that the 1999/00 season would bring a Fulham push for promotion to the Premier League. Paul Bracewell's team started the campaign strongly with a run of 15 games unbeaten in all competitions, but a sticky run that yielded very few victories at the end of the calendar year curtailed the team's chances. The away shirt worn that season however, was a thing of beauty.
The shirt is added to our extensive retro shirts collection. It can be found on copafootball.com, via selected retailers & online resellers and in the Fulham FC fanstores. Previous Fulham merchandise is here
I came across this challenging story on my Twitter feed today. Ivan Toney generously offered his match shirt to a Brentford fan who is need of help and I decided to offer my two grains of sand. Thanks, Ivan.

Jamie is 41 years old and lives in Ashford, Middlesex with his wife Carly. They have been married for 7 years and have 2 beautiful boys Jackson, aged 9 and Frankie aged 6.
Jamie is a plasterer by trade and works in the film industry at Shepperton Studios where he has been Head Plasterer on numerous film sets and TV shows.
Jamie is also a lifelong Brentford FC fan and season ticket holder at Griffin Park/Brentford Community Stadium. He has rarely missed a match and has passed this passion onto his 2 boys who join him on match days.

Their whole world was turned upside down in June this year (2020) when Jamie suffered a seizure whilst sleeping. He was hospitalised, put under numerous tests and scans and 2 months later delivered the heart breaking news that he was diagnosed with Osteosarcoma (a rare and aggressive bone cancer) of the skull.

At University College London Hospital (UCLH), Jamie is currently undergoing a course of chemotherapy, but he has been informed that this won't really do anything other than slow the cancer. Following this chemo, Jamie would be given Rapid Arc Photon Therapy which the radiologist have advised will not cure his cancer – and only give Jamie months to short years to live.

Devastated isn't a strong enough word for how Jamie, his family and friends are all feeling right now.

So what do we do? We fight! And Jamie's family have heavily researched alternative treatment options within the UK and abroad. Sitting back at 41 with a young family, hopes and unfulfilled dreams ahead – there's no way Jamie isn't going to fight this with everything he's got.

There is a renowned hospital in Boston, Massachusetts General Hospital (MGH) who have confirmed they will treat Jamie with Proton Beam Therapy!!
Proton therapy is a specialist form of radiation which only targets the cancerous cells and not the surrounding brain tissues meaning they can give him a much larger and more powerful dose. This means that no other parts of Jamie's brain and skull will be damaged by the radiation which could potentially leave him with long term neurological problems – something we want to avoid.

Proton therapy is widely available in the United States, but due to cost, the UK only have 1 machine available in Manchester. This has a long waiting list and therefore Jamie isn't a suitable candidate to use it.

The amazing doctors in Boston however, have given Jamie a chance. They have offered him a longer prognosis and are ultimately looking to cure him of this terrible disease.
Proton therapy will be followed by DNA sequencing and possibly Immunotherapy in months or years to come which is just unavailable on our NHS.

This is where you come in and we need your help!!

If you know Jamie – you know he'd do anything to help anyone – and he's probably done something for you already over the years. If you don't know Jamie – he loves his family with all his heart! He's the hardest working person you'll likely to come across in your lifetime and there's nothing he wouldn't do to help someone.

We need to get Jamie to MGH in Boston for this treatment ASAP. As you can see from how much we need to raise, medical treatment like this does not come cheap. It will cost a considerable amount of money as it will need to be paid for privately and this is where you can help by donating anything you can to get him to Boston in the next few weeks to commence the Proton Therapy treatment.

PLEASE – if you can donate anything, it doesn't matter how big or small it is – every penny counts and please share the link on your social media platforms as we need to reach as many people as possible and as quickly as we can.

Donate here please.
You'll be potentially helping to save his life and I know Jamie and his family will be eternally grateful for any contribution you can make.

Thank you so much

Jamie's family & friends xx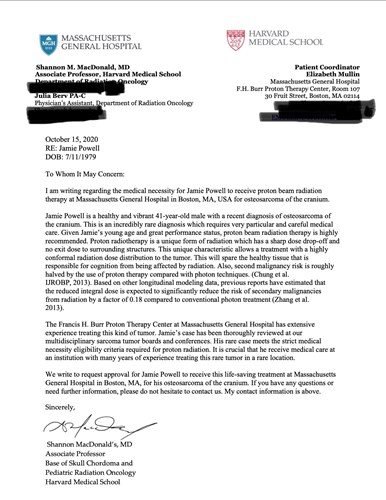 I am delighted to welcome another sponsor to the fold. They are UK Merchant Solutions Ltd from Manchester. They offer a full range of merchant solutions for businesses of all sizes. They will be the official provider for the Tuktuk Challenge.

Please do not hesitate to contact them if you have any requirements on
07591460142 or 0800 0029152
.



The World's Most Expensive Link

I am delighted to welcome another new sponsor onboard. It is my friends at The World's Most Expensive Link who have been with me right since the first Shirt journey in 2010. Thanks again!

The World's Most Expensive Link is easy to own.
It simply always goes to the highest bidder. Why not add your link now for as little as a £1?
If you are outbid at anytime and knocked off the top spot you can top up your link to get higher up or back on top.
For Example, if somebody put on a link and it was topped up by £1 per week, a second link added 1 year later would need to pay £53 to get above the first link.
Links don't devalue over time but will get lower in the list if higher value links are added.
If your links falls from the top spot it will still get long term recognition on Hall of Fame
Your link is guaranteed to stay live until at least December 31st 2022.
We encourage all participants to link to www.theworldsmostexpensivelink.com from their website.
The site is self-publicising in that the more people that participate the more people know about it.
Every time someone else joins the site they will see your link till at least December 31st 2022.
We send out a monthly newsletter by email to promote the site.
I was delighted to be sent this today from my friends at West Ham. I think it is a fantastic initiative and one well worth supporting. Congratulations and respect to everybody who brought these products to market.

To read more and order click here